Training
'Those that can work alongside conventional medicine' - The British Medical Association definition of Complementary Therapy.
In 2000, The House of Lords select committee published a report on Complementary and Alternative Therapies. Healing was within Group 2 which contains therapies which are "most often used to complement conventional medicine and do not purport to embrace diagnostic skills."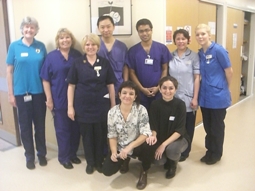 The House of Lords Select Committee on Science and Technology report on the use of Complementary and Alternative Therapies (CAM) stated the following in relation to therapies within Group 2 - which includes Healing:
"We are satisfied that many therapies listed in our Group 2 give help and comfort to many patients when used in a complementary sense to support conventional medical care"
"In relieving stress, in alleviating side effects (for example of various forms of anti-cancer therapy) and in giving succour to the elderly and in palliative care they often fulfil an important role".
The SBSHT healing therapists, who work within the NHS and other health areas, are proud to be part of a multi-disciplinary team of professionals to provide vital support cancer patients, their relatives and staff.
The NHS Healer is available on line from the charities shop