NHS Projects
The Sam Buxton Sunflower Healing Trust helps children, teenagers and adults of all denominations on their cancer journey within NHS Hospitals and centres by provision of complementary healing therapy, working alongside conventional medicine, for mental, emotional and physical support.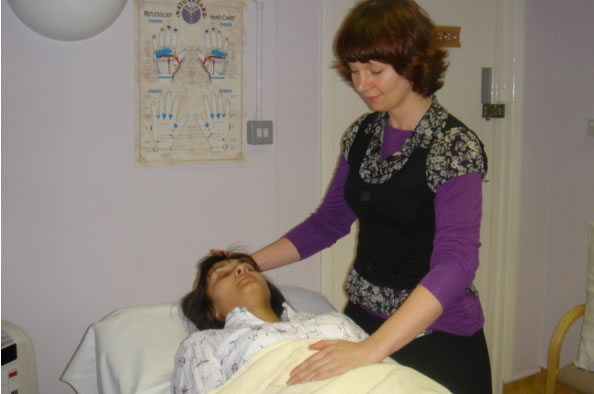 The following endorsement of the work of the SBSHT is provided by the University College London Foundation Trust.

"Treating the whole person, not only their cancer is central to the way services are provided in the UCH Macmillan Cancer Centre, opened in April 2012 . This was very welcome news to Angie Buxton-King who, as complementary therapy team manager, can be largely credited for introducing the current provision of complementary therapies available to cancer patients at the Rosenheim and UCH.
Angie's behind the scenes work - attracting funding, setting up tools to measure patient satisfaction and developing policies so that therapists work to the same, consistently high standards - has laid the foundations for complementary therapy to become fully integrated into cancer care" said Martin Lerner, Divisional Manager for Cancer Services. "Our long term aim is to offer complementary services as part of the care pathway for all cancer patients who would like to receive them."
Patients consistently give good feedback but to demonstrate how complementary therapies can benefit cancer patients, Angie worked with the haematology nursing research team to design a clinical trial to examine the effects of Reiki on patient quality of life. This groundbreaking randomised controlled trial will attempt to recruit more than 100 patients over the next two years.
Angie and husband Graham leave UCLH with a lasting legacy.
Our projects
The Sam Buxton Sunflower Healing Trust widens supportive options for cancer patients by raising money to fund Reiki/ Energy Healing within the NHS and related cancer centres. Specifically, SBSHT provides money to employ practitioners of Reiki and Energy Healing at hospitals and cancer centres; these therapists work alongside, and in partnership with, conventional medicine.
We have or are funding therapists at:
University College London Hospital

Addenbrookes Cambridge

Princess Alexandra's Epping

Kent & Canterbury Hospital

Queen Elizabeth Hospital Welwyn Garden City

St Josephs Hospice Hackney

St Mary's Hospice Ulverston

Furness General Hospital in Barrow

Wigan NHS Trust

Derriford Hospital, Plymouth

Eden Valley Hospice, Cumbria

St Johns Hospice, Lancaster

Paediatrics ( Children)
Interest is high from other cancer centres including centres that treat children. "I can't recommend enough the value of this resource within the service". Dr Maria Michelagnoli. Consultant Pediatric/Adolescent Oncologist, UCLH
The NHS Healer is available on line from the charities shop