Supporters contributions
2nd June 2015
Healing Times – A Reiki Journey By Claire Clifford
Reiki is a very special part of my life. In 1997 I was diagnosed with an underactive thyroid gland, this had an enormous impact on my entire nervous system and,as a result, it had a major effect on my whole life.

I had to resign from my employment at the time and I moved back home with my parents, my life as I knew it had dramatically fallen apart around me. This was a particularly unsettling and highly distressing time for me. A good friend had suggested that I make an appointment to see a Reiki Healer who also worked with healing flower essences. Within six months of having the appointment and receiving on-going Reiki and flower essences and with the love and support of my parents, my mind, body and spirit started to heal and a new Claire was emerging.
In 1998 the gentle touch of Reiki healed and changed my life in so many positive ways that becoming a Reiki Healer was a natural progression.
In spring 2012, I was exhibiting at Cumbria's first MBS festival where I had the pleasure of meeting Benet Waterman who told me about Angie Buxton-King and her very special connection with Reiki. Needless to say I purchased Angie's book, The NHS Healer, and became a proud member of the Guild of Professional Healers.
Angie's inspirational story touched me deeply and encouraged me to follow my heart and my passion for Reiki.
In May 2012, I was very excited to attend Angie and Graham's
'Healing in Hospitals' workshop in Suffolk.
It was such a pleasure to meet Angie and Graham and an honour to be part of the course.
I felt very humbled to be a recipient of the invaluable information that has come from the years of research and practice to which Angie and Graham have dedicated their lives. It was a wonderful opportunity and a treasured experience for me. They are 'Beacons of Healing Light'.
Reiki is a very important part of my life, for going on 16 years now; however with my constant travelling back and forth between the UK and Australia my Reiki vision, 'Healing Times', has never really had the opportunity to become fully established, until now.
About one month ago I received the most wonderful healing Reiki treatment with Devi Ma at a time when I needed it most. I have recently been diagnosed with untreatable uterine fibroids, which has answered a lot of questions with regard to the recent decline in my health.
Staying very strong and positive whilst doing some reading about the condition, my research lead me to an article that explained that on a metaphysical level fibroids are a condition due to one's creative expression being suppressed. The article resonated highly with me and I truly believe that it relates to myself not having had the opportunity of being able to consistently practise Reiki.
I strongly believe with all my heart that the healing energy of Reiki touches and heals all of us in extraordinary ways, it flows into our lives just when needed and perhaps when least expected.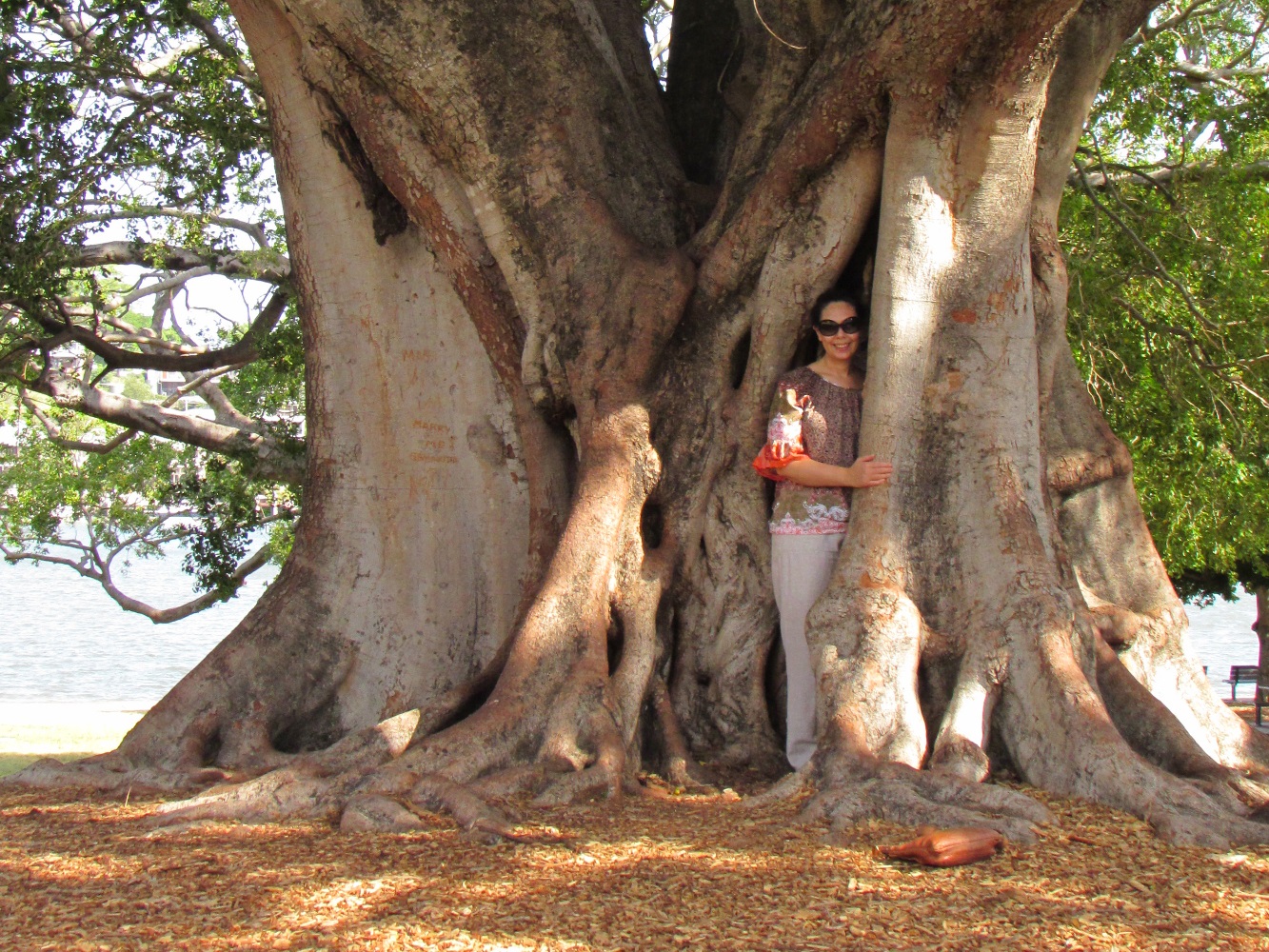 As I sat up from the treatment Devi said to me: 'What are you doing working in a shop? You are a powerful healer, make your flyers and your life will change within the next three months.' For the last four weeks since receiving the Reiki healing I've been very energised and positively focused on sharing my passion for Reiki through bringing Healing Times to life.
It's all happening so fast, I need to run to keep up, it's such a wonderful experience, I'm enjoying the journey! It feels like a light had been turned on inside of me during the treatment. I've created my flyers, business cards and my website. Healing Times has been successfully created and was officially launched at the end of December 2013 .
Within the four weeks, I had two appointments to visit potential venues to offer Reiki. The first is the Redlands Healing Centre, Sheldon. Georgia, the founder of the centre, and her lovely team have welcomed me with open arms to practise Reiki in the centre.
Commencing in February, I'll also be based at Genesis Bodyworks, New Farm. In addition, I have recently been in contact with my local community centre in New Farm offering Reiki on a volunteer basis.
I feel that I wish to embrace and become part of the community spirit and offer the healing touch of Reiki to people from all walks of life within the community.
I have recently discovered through being accepted as a Reiki Australia member that I have a very strong connection with Dr Usui, through my Grand Reiki Master, Sylvia Neil. As part of the application process for Reiki Australia I was required to submit my Reiki lineage.
Sylvia informed me that she is eight places away on the Reiki lineage tree from Dr Usui. It's such a pleasure for me to be in contact with Syliva again after 16 years; she has offered to guide me through my Level Three Reiki. I'm so touched and have gratefully accepted.
In late January I'm travelling to Japan with my husband, David, we plan to visit and pay our respects to Dr Usui's resting place in the Saiho-ji Temple in Tokyo. I think that this is going to be a very special day and it will be a magical moment in my life to remember.
I would like to say thank you to Dr Usui for sharing his discovery and gift of Reiki, his healing light shines bright and touches so many peoples' lives around the world, I'm so honoured that it's touched mine.
Reiki has been my guiding light and my inner strength. I've knocked on doors and magically the universe has provided me with an abundance of doors to walk through, presenting me with amazing opportunities to embrace and look forward to.
Everything that has happened, and that is happening, is bringing such an overwhelming sense of joy and satisfaction to my spirit and soul. I am honoured to be walking along the path that I'm on, it's been quite a journey to reach this point in my life. I have no regrets, I look to the future, embracing it with a whole heart and open arms.
There is a very special friend whom I wish to thank, Emma Summerfield from Emms at Moon Dream Jewellery. She's been my shining light when there's been darkness … she's my Beautiful Angel Friend. Emma is an incredible individual and has been a true inspiration to me, she is living proof that following your heart and dreams and creating your own future is definitely within reach of all of us. It's a magical journey for every one of us to embrace.
If you would like to contact Claire, please email her at
healingtimes@hotmail.com
or visit her website
www.healingtimes.wix.com/reiki

My Journey with Reiki By Sally Garland
Having been invited to write an article, my delight quickly turned to puzzlement once I sat down to write it. What could I possibly write about myself that would be of interest to anyone else, having led a very ordinary life? I turned to family and friends for inspiration finding only complete amusement and lots of leg pulling at my predicament. Suggestions that I could talk about Suffolk, the farm, my family sounded very reassuring topics to expand on however I knew at heart that I was meant to be focusing on my own journey. So here it is, my story from an ordinary person happily leading an ordinary life.
I am Sally, a forty eight year old farmer's wife living in Suffolk whose main focus in life has been on my family. Our small family run farm has been a wonderful environment to bring up our three daughters. Space, fresh air and the natural beauty of green fields, hedges and trees abounds alongside muck, hard work and long hours. A way of life close to nature which I would not change for a moment despite its many challenges, with enough funny, sad and plain silly tales to fill a book.
I love to fire up the beast (my cooker) and cook up a feast to share with family and friends. I've always felt that there is something rather special about enjoying good food with good company and I feel at ease whilst preparing and cooking fresh ingredients, a simple and tasty way of being creative. A cup of tea, a piece of cake and a listening ear seem to be an amazing mood enhancer too. A busy life with lots of comings and goings, so much so that one friend suggested it would be a good idea to fit a revolving door!
My life took an unexpected turn when my eldest daughter left home for University. I suddenly found myself with a little bit of spare time. I happened to be flicking through the local community paper, musing on the idea of learning the art of meditation when much to my surprise a column written in the paper jumped out at me offering just that. I found myself booking in without hesitation, not knowing that I had just been introduced to Graham King, a major influence in the next part of my story. The proverbial 'Mother Hen' was about to spread her wings.
Meditation proved to be a boon, deeply relaxing and I seemed to be connecting with a part of myself that I had somehow forgotten. I began to notice a subtle change that was difficult to define.
Graham's guided meditations led me on a journey of self- discovery.
I had never heard of 'Spiritual Healing' or 'Reiki' and found Graham and Angie's work as healers within the NHS fascinating and uplifting to hear about. I had spent a lot of time over an eight year period in hospitals with my father during his life following a brain haemorrhage at the age of fifty two. It was a time of deep sadness, frustration and difficulty as I battled to support my parents, often feeling angry at the lack of basic care that my father received whilst in hospital and trying very hard to offer him hope and a reason not to give up. It took its toll on my mother. I tried in turn to be her 'rock' to lean on and give practical and emotional support.
There was no time for me to think about, let alone deal with, my own emotions so I suppressed them, not understanding the harm I was doing myself. I constantly wished I had a magic wand to make everything better and stretch time in order to fit in all of the juggling I was doing. As is often the case it was only with hindsight that I realised how valuable these experiences had been as I ventured into the world of 'healing'. At the time they were painful and often overwhelming, my efforts seeming futile, my inability to change the events unfolding left me feeling afraid and powerless inside, at odds with the strong, broad shouldered, "I can cope" mask that I daily wore.
And that's the thing, I discovered as I embarked on the healing courses, it was safe to take off the mask and just be me. I began to allow others to see the parts of me that I had perceived as my weaknesses, my faults, my bad bits if you like. Slowly I embraced them as a part of me. Self-acceptance grew as I gradually let go of long held concepts as to how I 'should' be.
I smile now at some of the events that led up to my decision to want to learn more about healing. Being a very down to earth sort of person and having just booked my place on Part 1 of the Spiritual Healing course, I began to question if I could possibly have any healing abilities, quickly followed by "is there really anything in it?" So having gleaned a few hints on how to do it I asked my daughters if I could try it out. Other family members arrived out of the blue and also wanted to "have a go". By the end of the day I had decided that there was definitely "something in it"! The key thing for me was that they had all felt and experienced something!
I began with the Spiritual Healing course with Angie and went on to do the Reiki courses with Graham all of the way through to Grand Master/Teacher level. Their encouragement and gentle guidance ever present each step of the way. The courses have opened up my life in a way that I had not expected or anticipated. It is a time of new beginnings, new friendships and fresh ideas and inspiration. A time to celebrate all that I have learned from my experiences in life and embrace the freedom I now allow myself to enjoy. A freedom gained by letting go of old thought patterns no longer serving me. I now work full time as a Reiki Therapist from my own practice where I also offer meditation and relaxation sessions.
Last year a friend and I managed to secure funding from Suffolk County Councils Innovation Fund to set up a support Group for family carers. It has been hugely rewarding to be able to offer this free service providing an opportunity for the carers to enjoy a range of complimentary therapies. We act as a sign post to help and advice from other agencies. Our work will be used to highlight the needs of family carers via feedback received from the carers, hopefully allowing the council to pinpoint where further help and support might be most appropriate. It's absolutely brilliant to be doing something I enjoy so much. Each day I count my blessings especially the love and support of my husband and children as I walk the healing pathway. Without a doubt an ordinary life as an ordinary person is an extraordinary adventure. Who knows where it will take me in the future?
If you would like to contact Sally about the Carer's Group please send an email to
halesworthopendoor@gmail.com
. If you would to contact Sally about her private practice please email
relaxatmileswardcourt@gmail.com.
A Reiki Healer's Journey to Japan - by Claire Clifford
I'd like to share my very special journey, the highlight being paying my respects to Dr Usui's resting place in the Saiho-Ji Temple, Tokyo.
On a glorious sunny winter's afternoon, blessed with a picture-perfect blue sky and a refreshingly crisp temperature of 5 degrees, David and I found ourselves wandering along a quiet cobbled back street that would eventually lead us to the Saiho-ji Temple, Dr Usui's resting place. As we got closer to the temple the grounds slowly became visible on our right, through a fence. We continued to walk towards the entrance and glancing through the fence, our gaze was drawn to a strikingly tall memorial stone that stood strong and proud, inviting us to explore further: this was in fact Dr Usui's memorial.
With feelings of excitement and anticipation we turned the corner and were greeted by the sight of the beautiful entrance to the temple. Entering the temple I instantly tuned in to the peace and tranquillity that radiated, it was infectious, warm and fuzzy like the glow you get from a candle. I felt like we had stepped into another world . . . a world of peace and harmony, love and serenity.
Following the path that lay ahead we continued to soak up the fresh air and the delicate afternoon sunlight; we could hear birds softly singing in the gentle breeze of the trees and a big fluffy ginger cat basked in the sun, totally and utterly relaxed and completely unaware of our presence.
As we got closer to Dr Usui's resting place with each step and each breath I took I was overwhelmed by both a sense of nervousness and one of excitement; it felt like I was about to meet up with an old friend or family member whom I hadn't seen for a very long time. I get this feeling a lot before I'm about to give Reiki treatments: I believe it's the energy building. On arriving at Dr Usui's resting place all these feelings soon diminished and were replaced by an overwhelming feeling of calm and a sense of coming home, belonging, saying hello to someone I'd known. I felt as if I had climbed to the top of a mountain and now I was admiring the amazing view . . . the whole experience was breathtaking.
Claire paying respects at Dr.Usui's Memorial
My time with Dr Usui was incredibly special, inspiring and deeply touching on many levels. I thanked him for bringing Reiki into my life, for being my guiding light through the dark, for giving me this wonderful opportunity to carry on my journey with Reiki and touch many more lives with this beautiful healing energy.
It was quite emotional; I feel that I left part of myself there that day, the part that I no longer needed to hang on to, and in exchange for this I came away with an inner healing light that shines bright wherever I go.
My life changed dramatically in a matter of days when I returned from Japan. It was as if a rug had been pulled from under me, but I landed very strong and firm on both feet with a little bit of dancing with joy mixed in!
New doors opened in a matter of moments, as those that served me no longer closed, and left me vibrating at a completely different frequency. At last I am self-employed and am offering healing within my community and beyond.
Every day I am filled with an overflowing abundance of gratitude that I am living my dream, my passion, and that I am shining my healing light so brightly it would seem that other people can see it!
Every Tuesday at my local community centre I volunteer half an hour of sound healing using Tibetan singing bowls (the classes started just after I returned from Japan).
One day after the class a lady came up to me and told me that during the sound healing she had had a strong urge to open her eyes to see what I was doing, as she watched me move from person to person she saw a pure white line of light directly in front of me working with me, guiding me.
Since returning from Japan the Reiki treatments that I have been giving have been incredible, as if someone had turned on a switch and everything that I felt and saw before, during a treatment, has exploded and become a thousand times more vibrant and energised . . . the colours that I see are like they are on fire.
I feel incredibly blessed to have had this wonderful opportunity to have paid my respects to Dr Usui's resting place. This magical experience and its inspiring memories will stay with me for the rest of my life. I am now looking forward to the next stage in my journey, becoming a Reiki Master.
The NHS Healer 2017 via our online shop