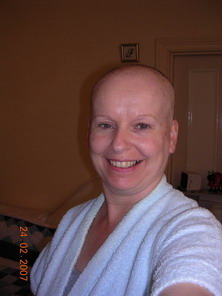 1st July 2015

Dear Angie and Graham,
I'm currently receiving chemotherapy at Christies in Wigan . During the 5 cycles that I've had so far , I have been extremely lucky to have had Angela by my side. Angela has carried out Reiki during the insertion of the canula and has helped me to tolerate the horrific pain associated with the cold cap. In fact, without Angela I could not have tolerated either.
I feel very lucky to have had my treatment on the day Angela works and feel sorry for anyone who doesn't have her assistance if their treatment doesn't fall on her days. I think your charity is wonderful and on Saturday 25th I am organising a fund raising event for the Sam Buxton Trust so others can benefit from such an invaluable therapy.
Thank you for funding Angela at the Christies in Wagon - she really is a truly fabulous lady.
Best wishes Colleen
- See more at: http://www.cancertherapies.org.uk/patient-experience#sthash.KtxdpNw6.dpuf
Patients undergoing cancer and end of life treatment can typically suffer physically with chronic pain, nausea, debilitating fatigue, sleeplessness, migraine/headaches, constipation/diarrhoea and other issues like needle phobia. They also face anxiety, depression, stress, shock/anger and despair. These physical and emotional problems can have an immense impact on the patient and on their ability to manage their condition. Some of these issues can be addressed through further drugs (where there is no conflict with ongoing medical treatment) but many cannot, especially emotional issues.
Our projects supply as with regular reports and the following benefits are commonly reported to us.
> Needle phobia
> Anxiety
> Nausea
> Constipation
> Pain- emotional and physical
> Sleep problems
> Neuropathy
> Fear of the future
Patients Comments

I've been lying here all the time thinking that I'm going to die. Now I feel lifted and my perspective is totally different – like I'm not going to die now.My breathing feels easier now.I felt 'waves' flowing down me, incredibly soothing for the pain, and my mind

.I had been so anxious about the cancer recurring. After the treatment my body felt better, my mind brighter and I felt the loveliest feeling spreading all over me.

Before treatment: 'I'm sorry I'm a sceptic and I don't believe in all this stuff. OK I may as well do it as I've got nothing else to do.' After treatment (looking stunned and completely relaxed): 'I'm sorry, I had no idea. Please can I have some tomorrow?'
Families will be faced with all of the same emotional issues and the impact on families (directly and indirectly) is often not fully realised and just not able to be addressed by hospital staff.
Relatives comments
"Reiki has been a huge help to me while my partner has been undergoing chemotherapy. It has enabled me to recognise my emotions more clearly and as a result communicate my worries and stresses more freely. I feel like it has helped me to lift a burden off my shoulders."

"This is so a fantastic, I came along to support my daughter during her visit to the hospital and end up having a treatment myself".

"I've felt I needed to be brave for my partner's sake, healing has helped me share these feeling with him. I feel so relieved"
1st July 2015

Dear Angie and Graham,
I'm currently receiving chemotherapy at Christies in Wigan . During the 5 cycles that I've had so far , I have been extremely lucky to have had Angela by my side. Angela has carried out Reiki during the insertion of the canula and has helped me to tolerate the horrific pain associated with the cold cap. In fact, without Angela I could not have tolerated either.
I feel very lucky to have had my treatment on the day Angela works and feel sorry for anyone who doesn't have her assistance if their treatment doesn't fall on her days. I think your charity is wonderful and on Saturday 25th I am organising a fund raising event for the Sam Buxton Trust so others can benefit from such an invaluable therapy.
Thank you for funding Angela at the Christies in Wagon - she really is a truly fabulous lady.
Best wishes Colleen
- See more at: http://www.cancertherapies.org.uk/patient-experience#sthash.KtxdpNw6.dpuf