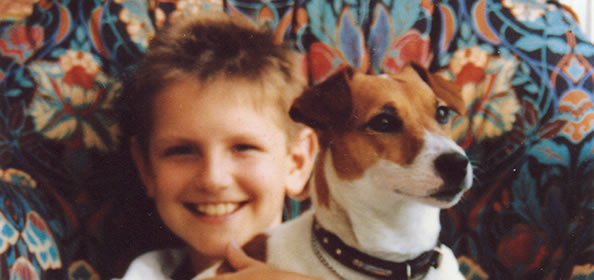 The aim of the charity is support cancer patients and their families by providing Reiki and Energy Healing as Complementary Therapies in particular, but not exclusively, within the National Health Service.
The charity has been created as a living tribute to my son Sam, who passed away on 5 August 1998, aged 10 from leukaemia.
Sam's life was 3 years longer than his initial diagnosis suggested, and we would like others to have the same opportunity to be supported on their journeys with their loved ones, as we were with Sam.
During the years that Sam was ill the most supportive therapy we, as a family, used was healing.
The complementary therapy of healing initially supported Sam through chemotherapy, allowing him to be active, vibrant and cheerful, despite the gruelling regimes he went through to rid his body of leukaemia.
After a bone marrow transplant and subsequent relapse, Sam continued to live a happy and vibrant life despite his illness. I believe this was, in part, due to the amazing care he received at Great Ormond Street Hospital but also to the support he continued to receive from Complementary Therapy.

Our aim is to make funds available to NHS trusts and cancer centres to provide therapists to work alongside conventional medicine .
We believe that this is the future face of Integrated Medicine for cancer patients.
Dr Rosy Daniel, Medical Director Health Creation Coaching and Consultancy
"Angie Buxton-King is one of the most dedicated leaders and innovative pathfinders within the holistic healthcare movement. She transformed the tragic loss of her son Sam into the most exceptional work to bring healing, love and tender care to people at their very most vulnerable moments within the heart of mainstream oncology care. She has found her way through the resistance, scepticism and cost barriers to get this crucial care through to the people that need it and created new pathways to establish gold standard integrative healthcare within Britain's National Health Service. This is an extraordinary achievement and I salute Angie for the bravery, brilliance and determination you have showed in your exceptionally important and beautiful work".

Since 2006, the SBSHT has funded healers to work in NHS, and other health related areas to support cancer patients and their families.
A key role of the SBSHT is to increase awareness within the UK of the importance of providing healing support to cancer patients and families. Another vital role is to generate the crucial funds needed to place more healers in NHS, and other health related areas, throughout the country.

Complementary therapy (CT) is increasingly demanded and expected by patients undergoing cancer treatments. An increasing amount of research clearly demonstrates that CT is important to support patients through their conventional treatments.
SBSHT is committed to providing funds to NHS hospitals and cancer centers to engage the services of a Reiki practitioner or Healer for cancer patients and their families.
As a charity we have funded paid healer posts within the Hospitals & Hospices listed below;
University College Hospital, London

Angie, Graham and 5 other healers were employed within cancer services at U.C.L.H.
Five of the healing posts were initially funded by The Sam Buxton Sunflower Healing Trust
Addenbrookes Hospital, Cambridge
Princess Alexandra Hospital, Epping

Queen Elizabeth Hospital, Welwyn Garden City
Derriford Hospital, Plymouth
Wigan NHS Trust , Wigan
St Josephs Hospice,London
Eden Valley Hospice and Jigsaw Children's Hospice, Carlisle
St Mary's Hospice, Ulverston

Barrow in Furness NHS Trust
St Johns Hospice, Lancaster
Kent and Canterbury Hospital, Canterbury
Bristol
Haematology and Oncology Centre,Bristol
Rowcroft Hospice, Torquay

The Lister Hospital,Stevenage
Poole NHS Trust
Treliske Hospital, Truro
St Michaels Hospice, Herefordshire